Located right next to China, Hong Kong and Macau have led their own lives for nearly two centuries in the one case and four in the other. Hong Kong was a British colony, more or less, for 155 years; and Macau was under Portuguese administration for four hundred years. About twenty years ago, they went back to being – almost – Chinese, as Chinese administrative regions enjoying a special regime, but they have kept their English and Portuguese influences. I've just spent two weeks there, divided between astonishment and wonder at this meeting of tradition and ultra-modernity.
In Hong Kong, skyscrapers, rooftops and fabulous restaurants rub shoulders with Chinese street stalls. Macau, an hour away by water-jet ferry, was called "Gambling Hell" in a French film of the 1940s (definitely out of date). It has become the Chinese Las Vegas with its casinos, luxury shops, giant screens and American-style shows. It must be seen at sunset, when the city lights up.
Neither Hong Kong nor Macau are budget destinations, although Macau is a little less expensive. The two islands have kept the Hong Kong dollar or HKD and the Macau Pataca (which is linked to the HKD).
Here are a few of my favourite venues for eating, going out and relaxing. All personally tested and explored thanks to my expat friends.
Hong Kong
Dinner at the Café Gray Deluxe
On the 49th floor of that very chic hotel The Upper House, and with an unobstructed view of Victoria Harbour, the Café Gray offers an elegant dining experience. The cuisine is European and American, with a little touch of Asia. I went there on arriving and, enchanted by the beautiful location, I soon forgot all about my jet lag.
For healthy breakfasts
Oolaa: Granola, omelette, salads, smoothies, etc.
Grassroots Pantry: I loved these healthy and chic recipes such as the açai bowl and the pancakes with coconut butter and banana (filling but superb).
Rooftops for admiring the night
Sevva: There's a 360° view from this terrace, which has refined contemporary decor. With live music as well, the magic is all there.
Wooloomooloo: In the heart of Wan Chai, ideal for a drink in a relaxed and fashionable atmosphere (DJ from 7pm onwards).
Cé La Vi: For a successful Asiatic brunch, or to have a drink and be enthralled by the incredible panorama of Lan Kwai Fong.
An exceptional sensory break at the Ritz-Carlton
On the 116th floor of the Ritz-Carlton luxury hotel, the Spa has a breathtaking view of Victoria Harbour and an endless horizon. Choose the "Private suite with Jacuzzi" option to appreciate the extent to which the Hong Kong Ritz is a place of infinite wellbeing and luxury. Their three-hour session includes a massage, an ESPA facial service, and an hour to dine with your head in the clouds. Total relaxation guaranteed.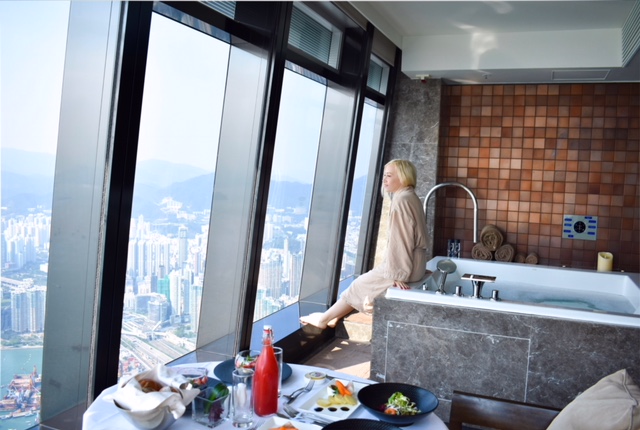 Macau
Taking the city's pulse up on the roofs
For all you lovers of panoramic views, here are two venues that are a treat both for the eyes and the taste buds: The Sky 21 Bar & Restaurant; and the Ritz-Carlton, Macau which is in the impressive Galaxy Macau Resort, a hyper-luxury complex that's full of surprises.
The Chopard afternoon tea
When it's time for tea, the fabulous setting of the Wynn Palace hotel offers an exclusive experience based on patisserie inspired by the Chopard jewellery range. It's a successful partnership, with delicious original coloured creations, and a whole succession of little details that make the Chopard afternoon tea an unforgettable experience.
Photo shoot in Hong Kong
If you want a permanent record of your stay in Hong Kong or Macau, with some unforgettable photos, contact FotoCatch Photography for a personalised shoot – artistic rendering guaranteed! The photographer Harris Tsam is both professional and remarkably nice. Get in touch via his site or his Instagram account @fotocatchphotography or @harristsam